Bespoke Anti-Ageing Combination Treatments | Before & After Results at CJA Aesthetics Clinics in Hampshire
Dr Chris Airey of CJA Aesthetics in Hampshire has pioneered a bespoke treatment package including a combination of age-defying non-surgical treatments.
With a focus on the unique ageing issues faced by his clients, the package effectively delivers a non-surgical lift without painful surgery, recovery time or scarring.
New CJA Aesthetics client, Debbie, treated herself to a bespoke combination of five rejuvenating non-surgical treatments. Her selected treatments provided an anti-ageing lift; a rejuvenation of her skin's laxity, a softening of lines and wrinkles and a plumping of her lips and cheeks.
Over the course of eight weeks, Debbie underwent:
Botox anti-ageing injections
Juvéderm Voluma to her cheeks
Juvéderm Volift to her lips
Teosyal Redensity II to her tear troughs
PDO thread lift to her upper and lower face.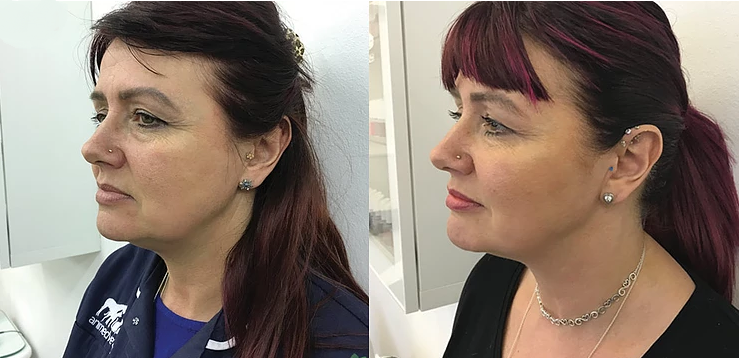 Here we talk to CJA Aesthetics client Debbie about her experience…
Why did you want anti-ageing facial treatments?
"Before my treatments, my appearance didn't reflect my demeanour. I've always taken pride in my presentation as I'm from a beauty background, trained as a hairdresser and have a keen interest in anything to do with the beauty industry. I have a cheerful disposition and I felt I generally looked tired and I'd lost volume in areas of my face; this just couldn't be corrected with makeup."
Have you tried non-surgical aesthetic treatments before?
"I had never had any treatments before and wanted to hear what treatments could benefit me and understand the procedures before I decided whether to go ahead. I was initially apprehensive about the treatments, but Dr Chris made me feel completely at ease. I didn't want to have a fake look and I was assured I would have a natural and subtle appearance afterwards."
How long did the whole process take from consultation to end result?
"Eight weeks. Dr Chris is extremely knowledgeable and he explained everything at every step of the way. There was no pressure at any point to take up treatments. The aftercare was great too. Chris was always contactable, even at weekends. There were always follow up checks to monitor how things were going."
Which of your anti-ageing treatments was the most successful?
"All of my treatments have been positive and I would say they all have added up to a fantastic end result. It would be hard to pick the best, but the PDO thread lift, cheek and lip augmentation and under eye filler were very successful."
Were any of the treatments surprisingly comfortable or uncomfortable?
"Nothing was too uncomfortable. I was most worried about the lip filler but it was not painful at all."
How do you feel now that your treatments are all complete?
"Now I look refreshed and rested. My face has more volume so it looks more youthful. I feel like I've had ten years taken off and this has been confirmed by family and friends."
What advice would you have for anyone considering anti-ageing treatments at CJA Aesthetics in Southampton?
"I can not speak highly enough of Dr Chris. I would recommend this treatment to anyone who feels they need a beauty boost – book a consultation and just see if it's for you. I'm so glad I decided to have my treatments and wish I'd done it sooner. I look forward to returning to CJA Aesthetics in the future."
Book in for a consultation with highly skilled and experienced physician Dr Chris Airey by completing the form below, or calling 07500 722925, or emailing info@cja-aesthetics.co.uk. Please also complete this online medical form.